Roomtypes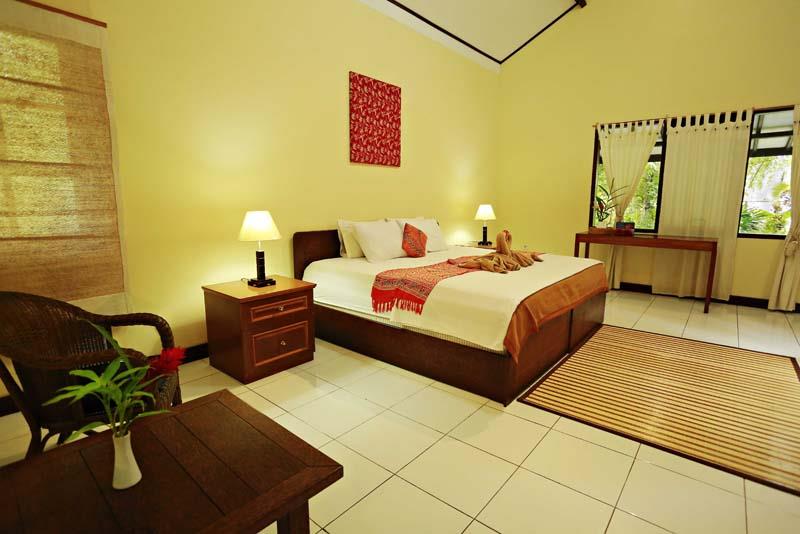 Package - Price per person in twin/double room.
North Sulawesi tours
Colorful coral reefs, remarkable wall dives, rare fish species and wonderful scenery make northern Sulawesi to a dream destination. With a unique ecosystem, northern Sulawesi houses greater diversity of marine animals than anywhere else on earth. Rare fish species as if be taken from a science fiction movie, grate visibility and colorful corals is what you can expect. The island of Sulawesi, formerly known as Celebes and unofficially known as the Orchid Island, attracts visitors with its beautiful scenery and hospitable locals. Sulawesi belongs to Indonesia and is located in a triangle between southern Philippines, east of Borneo and west papua.
Bunaken
Bunaken is a marine reserve on the western side of northern Sulawesi consisting of five islands (Bunaken, Siladen, Manado Tua, Montehage, Nain). The dive sites around Bunaken offer spectacular drop off diving with small caves and overhangs.
The walls are covered with coral in beautiful colors. Here you are very likely to see larger fish like sharks and tuna but also sea turtles and groups of barracuda.
Bangka
Bangka along with the islands of Gangga, Pulisan and Benteng is a group of islands located just north of the northern tip of Sulawesi. This group of islands and the neighboring coast is known for their rich coral diversity. Thanks to the currents from pacific ocean that contribute oxygen and nutritious in to the area. This currents have created very favorable conditions for marine life here. Here you will find large shoals of tropical fish, rare naked nails, soft and hard corals and a host of other unusual fish species.
Lembeh
Strait of Lembeh is located on the eastern side of northern Sulawesi and is one of the most interesting marine habitats for Muck diving. The area lies between the island of Lembeh and the mainland. The seabed consists of dark volcanic sand. You do not need many fin kicks before you discover the secret of the volcanic sand. Strait of Lembeh houses many of the world's best diving sites for Muck Diving. Here is an unusually fascinating large species of very rare small fish species such as frog fish, weird fish, mimic octopus, flamboyant cuttlefish, harlequin shrimps, skeleton shrimps etc ...

There are over 60 dive sites around Strait of Lembeh, most of them are sandy areas or small reefs. Diving in Strait of Lembeh interests most diver but best fits the underwater photographers and divers with great interest in marine life.
Our package tours, shore based.
Our package tours to northern Sulawesi offer a variety of options. When you browse our website you can see scheduled packages that are often group trips. Should the date not suit you, you can instead contact us and we will make a similar trip based on your times and wishes.
About the country
Indonesia lies in the heart of Coral Triangle!
The Coral Triangle is one of the world's most important marine ecosystems, a 6-million-km2 biological and economic treasure covering the waters of Indonesia, Malaysia, Papua New Guinea, the Philippines, the Solomon Islands, and Timor Leste. The Coral Triangle is the planet's richest center of marine life and coral diversity, with over 6,000 species of fish, 76% of the world's coral species, and an awe-inspiring array of wildlife.
The Republic of Indonesia, located in South East Asia, is the largest island country in the world, with over 17,000 islands and a population of over 225 million. Spanning over 1.9 million square kilometers, Indonesia stretches all the way from Aceh in the north down to Papua in the south east.
Indonesia has something unique to offer everyone. From the cool white sands and raucous volcanoes of Bali to the rock islands of Raja Ampat, you can always find something different here.
Entry Requirements
You will need a tourist visa to enter Indonesia, which can be issued on arrival at the airport citizens of most nationalities. A 30-day visa costs US$35. In cash will help expedite the transaction at the
Alternatively, you may apply for a visa before you leave home by contacting the Indonesian Embassy or Consulate in your country. For further up-to-date information about travel matters, please visit Indonesia's Department of Foreign Affairs website at www.deplu.go.id to find the embassy or consulate nearest to you.
Language
The official language in Indonesia is Bahasa Indonesia. The staffs at the Resort are multilingual and English is widely spoken.
Currency & Exchange Rate
Indonesian currency is the Rupiah (IRP). Money is easily changed at banks and official money changing offices. However exchange rates can fluctuate. ATM machines are readily available and banks will provide cash withdrawal via the Visa and MasterCard networks. If you bring cash it is best to use clean, crisp, new bills. US$100 bills receive a better exchange rate than $50, $20 etc.
When settling your bill, The Resort accepts US dollars and Euros as well Visa and MasterCard.
Health & Vaccinations
We advising all travelers to visit either their personal physician or a travel health clinic 4-8 weeks before departure. Many places in Indonesia have cases of malaria and dengue fever. If you plan to travel overland throughout those regions you may consider precaution.