Bali-Komodo-Bali
Departure date:
2022-07-09
Transport: Air ticket is supplement, Avrage package price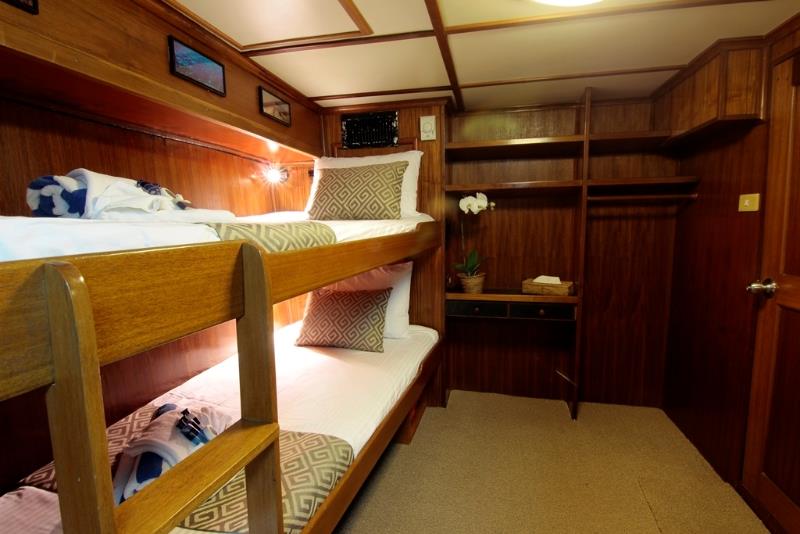 Double room - Bunkbed- Budget Shared twin cabin
Bali-Komodo-Bali. 8 days/ 7 nights liveaboard incl. full board. transfers to/from the boat, diveguide and maximum 20 dives included.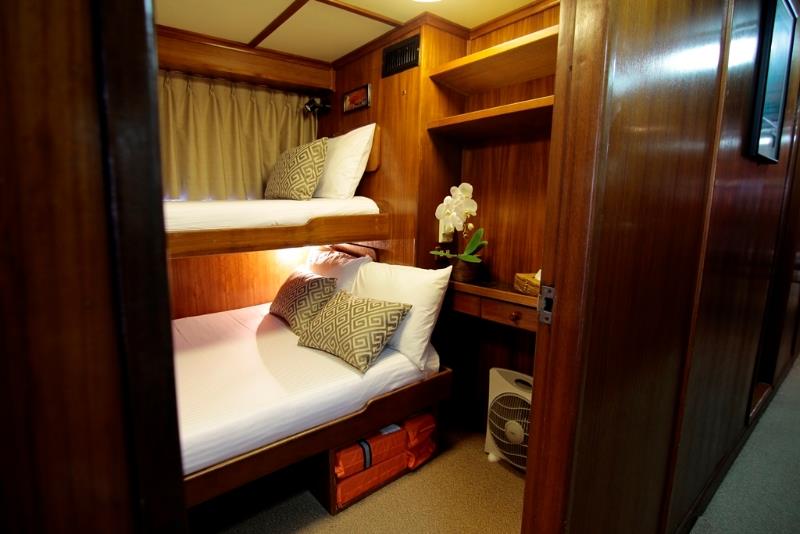 Double room - Deluxe Cabin, Twin room
Bali-Komodo-Bali. 8 days/ 7 nights liveaboard incl. full board. transfers to/from the boat, diveguide and maximum 20 dives included.
Travel information
Mermaid Liveaboards with many years of experience exploring the best Komodo offers is proud to offer our exciting next season. We dive the best of the best, we know where and when its running! Return guests will also appreciate some new sites and experiences we can share through our extensive experience with the Nusa Tenggara and Komodo National Park areas.
Getting to Bali.
The boat departs from Benoa in southern Bali. Several airlines fly to Bali Eg Thai Airways, Qatar Airways and Emirates.
Ask us for a package price incl. flight.
Before and after the cruise
Many guests choose to travel to Bali one or more nights before the cruise which we recommend strong. You can also extend your trip with a number of nights in Bali for dykkryssningen. Ask us for package rates and suggestions for accommodation in Bali.
Free Transfers
Transfers are included on departure and arrival days from Denpasar International airport (DPS), Kuta, Sanur, Nusa Dua, Jimbaran, Benoa and Seminyak regions. These are the main tourist regions of Bali, and the free transfers will ensure hassle free transport to and from Mermaid I and Mermaid II.
Convenient Departure location
We depart out of Benoa Harbour – Bali which is conveniently located in between Kuta and Sanur beach and only a quick 30 minute ride from the airport. No more 4 hour mini-bus rides to remote parts of the island!
Departures and arrivals
All cruise departure will be approximately 1500 hours and arrival time back will be 0800 hours giving a lot of time to catch a same day flight.
M/V Mermaid II is a 32 metre, double engine steel motor yacht. One of the most comfortable diver boats in Indonesia, she easily accommodates 16 guests in 8 deluxe cabins and 2 guests in a budget cabin below deck. All deluxe cabins are on the main deck with large panoramic sea view windows. Each cabin has a double bed and single bed (max pax 2 per cabin), air conditioning, private ensuite bathrooms. The budget cabin is below deck with twin bunks, air conditioning and share bathroom with 1 other cabin.
There is a wide stern dive platform with two exit ladders and fresh water showers. The dive deck is huge with plenty of room to gear up, individual boxes for your dive gear, camera table and loads of rinse tanks. The dining room is located on the main deck where delicious buffet style Thai and western meals are served. The saloon is large and spacious with lounge suites and big windows, bar fridge, tea and coffee facilities, TV/DVD, music center, library and a full selection of marine life books.
There are two outside decks – the shade covered party deck has comfortable lounge chairs. The sundeck, located in front of the wheelhouse has full sun and cushioned sun platform. EANX NITROX is available on every cruise.

Bali-Komodo-Bali 7 nights
DiveDay 1
Saturday Check-in on board MV Mermaid between 14:00-16:00 hours in Benoa Harbour Bali. After the boat and safety briefing, we'll set up equipment and you can settle into your cabin. Dinner will be served approx 19:00 hours as we cruise into the sunset on overnight journey to Moyo Island, north west Sumbawa. 0
Day 2
Sunday Start your adventure with a great dive in the calm, clear waters of Angel Reef at Moyo Island. Massive elephant ear and barrel sponges, schools of long fin banner fish and red tooth triggers. In their hundreds, frog fish, nudibrancs, eels, surgeon fish, snapper, dog tooth tuna checking out what is for lunch ! Visit the local village then its lunch for us ! Next is a great dive at Panjang Reef – are the pygmy seahorses around ? Then we cruise 2 hours to Satonda Island for a world class night dive after watching a million bats fly at sunset. After a great dive and dinner we cruise overnight to Sangeang Island, off the north coats of Sumbawa. Totally 3 dives tid day.
Day 3
Monday 2 dives at Sangeang Island for rare nudibrancs, pygmy seahorse and underwater hot springs that support this very unique marine life. Cruise to Gili Banta for exhilarating dives at Tanduk Rusa for big fish and amazing corals or GPS Point, famous for its sharks and pelagics. Then we enter the Komodo National Park and night dive at Gili Darat South Passage – sleeping turtles, colourful reef stone fish, Spanish dancers – calm sea- a great place to stay the night.Totally 3 dives tid day.
Day 4
Tuesday If the tide is right we hunt grey reef shark and dolphin at Taka Toko Gili Lawalaut. Dive 2 is a fast drift with pelagics and manta at Lighthouse Reef or the Old Passage. Then Crystal Rock awesome soft corals and the chance for sharks, turtles, giant Maori wrasse, a 'fish soup" dive with a high chance of eagle rays too ! Then we cruise south for fascinating night dive at Pink Beach near the entrance to the Komodo National Park. Totally 4 dives this day.
Day 5
Wednesday Start your day with an exciting visit to Komodo National Park to walk with the dragons! Then relax as we cruise 2 hours south to Horseshoe Bay Rinja Island. Spectacular diving awaits at the world famous site Cannibal Rock – rare nudibrancs, frogfish, spectacular corals, sponges, ascidians, huge black coral bushes, turtles, cuttlefish, loads of reef fish too ! Watch dragons on the beach, monkey, deer, wild pigs along the shore, go beach combing…. Maybe even a chance to follow whales and dolphin feeding in the calm bay. We overnight at this peaceful place, night diving at one of the many fabulous spots. Totally 3 dives this day.
Day 6
Thursday The Three Sisters call us to Padar Island for sharks and nudibrancs, surgeon fish and devil Rays. Manta Alley or Takat Makasar follows for the chance for a manta aggregation – WOW ! Batu Bolung aka "Current City" is the home for large Napolean Wrasse, turtles, blue fin trevally Or maybe a dive at Tatawa Kecil – we check out the currents first to make sure the dive will be cool for everyone on board ! Then we say goodbye to Komodo National Park with a fabulous Night dive at Gili Banta with Coral Cat Shark and more then we cruise west enjoying a post dinner night dive along the way. Overnight we cruise to Satonda Island. Totally 4 dives this day.
Day 7
Friday We enjoy two fantastic dives at Satonda and Moyo Islands for more chances for ghost pipe fish, ribbon eels, turtle, cuttlefish and more before we cruise overnight to Benoa in the south of Bali. Totally 2 dives
Day 8
Saturday After breakfast we transfer you ashore at 9am to continue your vacation…or its time to head home to start planning your next Mermaid cruise.
Total Dives during this trip is 20 dives.
Liveaboards in Indonesia
Indonesia completely unique when it comes to Liveaboards. Nowhere in the world you can find such a large and varied range och liveaboards with so many different options, in terms of route and variation on diving environment. In Indonesia we offer Liveaboards with a variety of departure ports.

The tours needs often to be adapted and tailored by flights and possibly domestic flights, as well necessary overnight stays between the flights. Submit your request here on our website. We will then get back to you and together with you we will present a balanced itinerary for your next Scuba Holiday.
About the country
Indonesia lies in the heart of Coral Triangle!
The Coral Triangle is one of the world's most important marine ecosystems, a 6-million-km2 biological and economic treasure covering the waters of Indonesia, Malaysia, Papua New Guinea, the Philippines, the Solomon Islands, and Timor Leste. The Coral Triangle is the planet's richest center of marine life and coral diversity, with over 6,000 species of fish, 76% of the world's coral species, and an awe-inspiring array of wildlife.
The Republic of Indonesia, located in South East Asia, is the largest island country in the world, with over 17,000 islands and a population of over 225 million. Spanning over 1.9 million square kilometers, Indonesia stretches all the way from Aceh in the north down to Papua in the south east.
Indonesia has something unique to offer everyone. From the cool white sands and raucous volcanoes of Bali to the rock islands of Raja Ampat, you can always find something different here.
Entry Requirements
You will need a tourist visa to enter Indonesia, which can be issued on arrival at the airport citizens of most nationalities. A 30-day visa costs US$35. In cash will help expedite the transaction at the
Alternatively, you may apply for a visa before you leave home by contacting the Indonesian Embassy or Consulate in your country. For further up-to-date information about travel matters, please visit Indonesia's Department of Foreign Affairs website at www.deplu.go.id to find the embassy or consulate nearest to you.
Language
The official language in Indonesia is Bahasa Indonesia. The staffs at the Resort are multilingual and English is widely spoken.
Currency & Exchange Rate
Indonesian currency is the Rupiah (IRP). Money is easily changed at banks and official money changing offices. However exchange rates can fluctuate. ATM machines are readily available and banks will provide cash withdrawal via the Visa and MasterCard networks. If you bring cash it is best to use clean, crisp, new bills. US$100 bills receive a better exchange rate than $50, $20 etc.
When settling your bill, The Resort accepts US dollars and Euros as well Visa and MasterCard.
Health & Vaccinations
We advising all travelers to visit either their personal physician or a travel health clinic 4-8 weeks before departure. Many places in Indonesia have cases of malaria and dengue fever. If you plan to travel overland throughout those regions you may consider precaution.