Roomtypes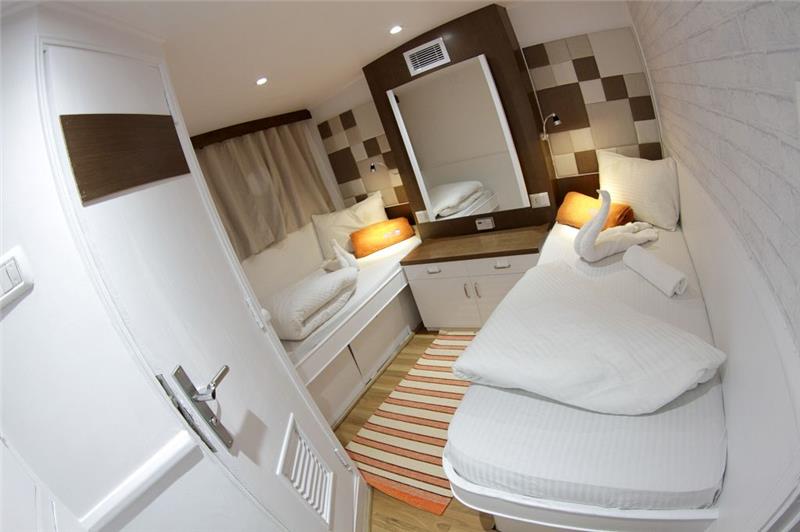 Double room - Bed in shared cabin
Flights:
2021-12-02 Copenhagen-Hurghada
2021-12-09 Hurghada-Copenhagen


Price is including
Flight t/f Hurghada
round trip transfer to the boat
7 nights 6 days diving onboard
Full board (all meals) as well as snacks, water, tea, coffee &
soft drinks
Use of 12 Ltr tank and weights
Nitrox Free
Taxes and supplements
Entry visa for Scandinavian passport holders
Price is not including
Rental equipment
Individual travel insurance
Alcoholic beverages
MV Emperor Echo
Emperor Echo is the latest addition to the Emperor Red Sea Fleet offering exceptional value for money for the 'eat-sleep-dive-repeat diver'. Completely refurbished in 2018 with a spacious and contemporary saloon, restaurant and lounging areas; Echo easily accommodates 25 guests with free NITROX and at least 2 professional guides.
Emperor Echo sails the popular Famous Five, Red Sea Sharks and Simply the Best routes when the weather and sightings are at their peak, giving the diver more variety and chances to explore the Red Sea at a more affordable price.
Accommodation on-board offers 6 x twin-berth and 1 x single bed cabins on the lower deck, 3 x twin-berth cabins on the main deck, and 2 x twin alongside the gorgeous Panorama Double on the upper deck. All cabins are ensuite with individual air conditioning, two cabin towels, 1 deck towel and bathrobe per guest.
Of course, fantastic food is served as standard, along with free red wine with dinner and a bar on the upper deck. She has limited free WiFi (for internet browsing and connecting with communication applications only when in signal).
Please note: The airport transfer included in the package is based on shared transfers for all Emperor guests transferring between airports/resorts/boats and are not private per booking. This may require waiting at the airport for other guests to arrive or for collecting guests from local hotels. We do our best to limit the waiting times involved. Transfer time is at 18:00
Private transfers: Upon request, can private transfers be arranged to suit your flight arrival and departure time at an additional cost and must be advised at the time of booking.
South Safari St. Johns
South st. Johns: This diving safari covers the coastal section of the southern Red Sea offering stunning diving on a huge variety of reefs, walls as well as hard coral gardens teeming with fish life. Some of the best dives are made in the early morning when you are most likely to find hammerhead and grey reef sharks circling around the tips of reefs such as on the north plateau of the famous and exposed reef of Elphinstone with its shear walls covered in soft corals.
St Johns is a collection of small reefs offering some of the best diving in the Red Sea. Habili Ali will make even the most experienced of divers sigh with wonder when admiring the forests of huge fan corals and black corals that populate its walls. At its western end grey reef, silver-tip and big schools of hammerhead sharks may be observed. Have also a look out for the curious and impressive Hump-head parrot fish that are typical for the St Johns area.
Shaab Sataya, the largest reef system in Fury Shoal, has it all - shear walls, ancient amphorae and yet another possibility to swim with big pods of friendly and playful spinner dolphins.
Shaab Abu Galawa Saghira with its wonderful hard coral garden in the shape of an amphitheatre is truly memorable.
For who do we recommend this trip?
We recommend this trip for divers with above basic training (PADI
Advanced OWD or CMAS 2 stars) along with at least 10-20 logged dives.
For divers with no advanced training, we can gladly offer you an
Advanced OW course onboard.
Looking forward to hearing from you!


Our Liveaboards Packages incl. flight
Diving from a Liveaboard is the ultimate diving experience which will allow you to experience the best of the Red Sea.
No matter which route you choose, you will not be disappointed. Dive into the clear and warm waters surrounded by beautiful corals, fascinating creatures and exciting wrecks. All this plus the comfort of the boats and our experienced dive guides will surely make your diving holiday an unforgettable experience.
Trip
We fly direct to Egypt. You shall be welcomed by our representatives at the airport who will transfer you to the boat. First night is spent onboard at the Port. The boat will leave the Port the following morning. Weather and conditions permitting, 3-4 dives are offered per day, including a night dive( Note that night dives are prohibited at the Brothers & Daedalus reef). The boat will return to port on the day prior to your flight back home. Last night is spent onboard at the Port. Check out is after breakfast on the last day, after which you will be transfered back to the aiport.
Cabins
the price offered includes a share in a twin beds/double bed cabin. Single accommodation is available for a surcharge. the rates can vary so kindly check with us!

Meals
3 Meals are offered per day, international cuisine, buffet style. Breakfast, lunch and dinner.
Cookies, snacks, coffee and tea are available all day. As well as water and soft drinks. You can buy wine and beers onboard.
Diving
3-4 dives per day (including a night dive). On the last day only 2 dives are offered, And for Marine Park destinations such as the Brothers and Daedalus only 3 day dives are offered as night dives are prohibited. Apart from the crew, 2 experienced local dive guides are at your service. 12 Ltr tanks and weights are available for no charge
Health & diving
Scuba Diving requires good health. It is important that the diver has good health and is healthy for scuba diving. The Responsibility lies on the travelers to check up their health. Especially the travelers who have reached the age of 45 are advised to do a health check for diving before the trip. Form to bring to healthcare doctors can be found in the following link. https://www.divingtravel.se/medicform.pdf
Equipment rental onboard
Only loans of weights and 12 liters scuba tanks are included in the package. Our recommendation is that you bring your own scuba equipment. For those who do not have their own diving equipment there is the possibility to rent on board. Ask us, We can forward your request to the boat.
Check in & extra baggage
Checked in allowance baggage is 20 Kg incl. 5 kg hand baggage.
You can buy extra baggage allowance, costs between 600-700 kr. But 1 bag cannot exceed 30 kg.
Payment
Deposit 3000 kr to be paid within 8 days of receipt of trip's invoice
Outstanding balance payable at least 60 days before trip's starting date

Book now and pay later
in cooperation with Wasa Kredit (financial company) and if you are Swedish resident.
We can provide support for loan through Wasa Kredit. It is easy and fast. You can choose to pay back in 3 or 24 months. For more information please contact us.
About the country
Egypt is located in the northeastern corner of Africa and shares borders Libya in the west, Sudan in the south, Israel and the Gaza Strip in the northeast.
Climate

In Egypt the sun shines all year long. Summer is extremely hot (May-September) where it is not uncommon for temperatures to reach above 40 degrees. Only in December will it be cool again, especially in the nights. January is the coldest month with daytime temperatures averaging between 15 and 22 degrees.
The water temperature in the Red Sea along the Egyptian coast rises in summer (July, Aug, Sep, Oct) to about 30 degrees. In winter it can be around 20-22 degrees.
Diving

In Egypt, you can dive the clear waters of the Red Sea. The Red Sea is the northernmost tropical sea on the planet and also the closest to Europe. Coral reefs in the Red Sea always offer a fascinationg and most elaborate scenery. The Red Sea is also famous for its WWII shipwrecks. It is by far one of the world's best diving waters.

Passport and visa

Citizens of the European Union do not need a visa for Egypt. You will need a passport that is valid for at least another six months after returning home.
Currency
Egyptian Pound
100 SEK = approx. 200 EGP
(spring 2018)
Electrical power
220 V. 2 pin plug same as here
Language
Arabic. Most people who work with tourists speak very well English.

Local time
Swedish time +1 hour. Egypt changes to summer time / winter time at times other than Sweden